Higher Education
We're delighted to have cultivated relationships with some of the most prestigious universities in the UK and abroad. We understand that all degree and masters courses are different, and have therefore developed a unique working relationship with each of our HE partners. Our aim is to provide students with a meaningful Gecko experience that ties in to their chosen areas of study, enhancing their learning but also giving them an in depth understanding of the company's working methodologies.
MA Theatre Lab at Royal Academy of Dramatic Art
Our ongoing relationship with the RADA MA Theatre Lab course has been built upon a mutual belief in collaborative, ensemble led theatre making with an experimental approach to story-telling and learning. As physical storytellers, movement is at the heart of what we do and the MA Theatre Lab's studio based approach to teaching, learning and exploration resonates with our own practice. Gecko's Artistic Director Amit Lahav runs an annual masterclass as part of the course, and other Gecko practitioners regularly visit to work with students.
Ian Morgan, Course Leader for MA Theatre Lab at RADA says:
"MA RADA Theatre LAB has invited Gecko to lead workshops with its students for several years now. The work is always surprising and revelatory and led with utmost professionalism, passion and care. As an example of how to go from rigorously playful studio work to vibrant embodied performance, Gecko provide students with a wonderful example of what's possible through a truly explorative, independent practice."
To find out more (including information on admissions) please click here.
MA in Contemporary Physical Performance Making
Estonian Academy of Music & Theatre
Gecko is working as one of the guest artists on this groundbreaking new master's course. The MA in Contemporary Physical Performance Making (CPPM) takes postgraduate education out of the classroom and puts practical experience with world class performance makers at the heart of the learning process. Uniquely, the course structure follows four terms of intensive study interspersed with four 'vacation breaks' in which students are encouraged to work independently on crafting their own practice as makers of the future. The course ties in perfectly with Gecko's company ethos of creating bold, innovative physical theatre in a safe, judgement-free environment.
Jüri Nael, Professor and Course Leader for MA in Contemporary Physical Performance Making (CPPM) says:
"For a long time now Gecko's artistic vision has been inspiring the world of physical theatre and performance around the world, earning them well deserved international reputation and admiration. In their productions, Gecko merges clever visual story-telling with unique choreographic language while requiring uncompromising emotional and psychophysical commitment from their performers. Estonian Academy of Music and Theatre (EAMT) is very excited about the collaboration between Gecko and our new international MA in Contemporary Physical Performance Making (CPPM), which aims to train a new generation of brave and visionary performance makers from all over the world. Gecko is one of the core associate companies on the CPPM course, leading intensive workshops in Estonia, mentoring students and offering every possible support to develop their unique artistic voice. Passion for education is what Gecko and EAMT share and we are looking forward to this inspiring collaboration."
To find out more, please click here.
Liverpool Institute for Performing Arts
In 2019, Gecko worked with the second year acting degree students at LIPA on the creation of two original devised pieces entitled An Invented Work Part 1: The Circus & Part 2: The Centre, which were performed in May 2019.
The students were guided through Gecko's creation process and mentored by our practitioners in the making of 'Parts 1 & 2: An Invented Work', linking to the theme of migration. The theatre and performance design degree students from LIPA are also closely involved in the creation process, as with all Gecko shows, and have received ongoing support and mentoring from one of Gecko's creative team.
LIPA's Head of Acting Will Hammond says:
"LIPA is committed to working with the most vital, ground-breaking and innovative companies, practitioners and artists. Our prerogative is to embrace past traditions and to forge new directions, casting fresh perspectives on style and form to pioneer new approaches. The collaboration has brought Gecko's industry specialists into the building to create contemporary works with a commitment to the evolution of our art and craft."
To find out more about the variety of courses on offer at LIPA, please click here.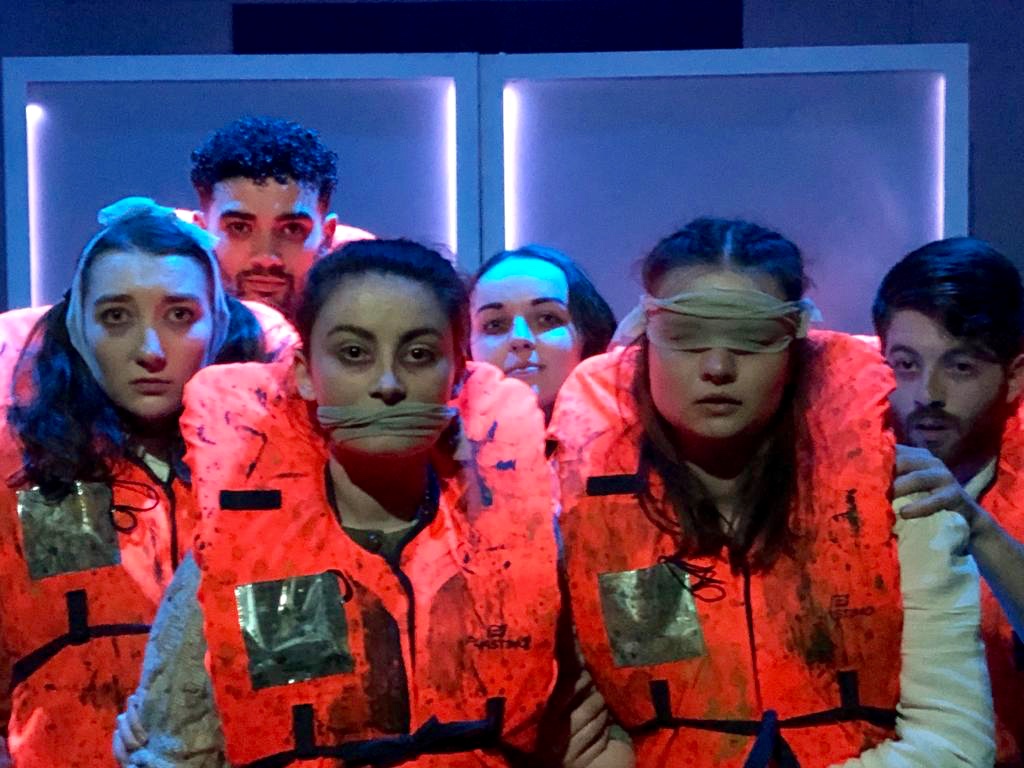 East 15
As well as running workshops for the BA Physical Theatre students, we also led East 15 Acting School's Physical Theatre Module on the MA Directing course in 2017. Students worked with Gecko practitioners to develop an understanding of our devising techniques and unique creation process, broadening and deepening their own theatre making practice. The module culminated in each of the students creating and directing their own piece of devised physical theatre based upon a theme or idea relevant to them.
To find out more about the variety of courses on offer at East 15 Acting School, please click here.