The Dreamer
A Shanghai Dramatic Arts Centre & Gecko co-production
Gecko artists working alongside Shanghai Dramatic Arts Centre have created an original story inspired by the dreams of William Shakespeare and Tang Xianzu.
Employing Gecko's trademark style, associate director Rich Rusk and devising performer Chris Evans (The Overcoat, Missing, Institute, The Time of Your Life, The Wedding) blend emotionally driven movement, a spine tingling soundscape and striking visual storytelling to bring a new twist to these classic texts, performed by a Chinese cast. With design by Rhys Jarman, lighting design by Chris Swain and original music by Dave Price.
Created as part of the British Council's 2016 Shakespeare Lives programme, commemorating the 400th anniversary of Shakespeare's death, the show is inspired by A Midsummer Night's Dream. As an additional celebration of this unique collaboration between China and the UK, the production is also influenced by The Peony Pavilion written by Shakespeare's Chinese contemporary Tang Xianzu.
Winner of the prestigious 2016 One Drama award China for Best Stage Design.
22/23rd Zuolin Drama Awards winners
Best Actress: Yang Ziyi
Best Actor: Liu Peng
Best Newcomer: Yang Jingran
★★★★ The Times
★★★★ The List
★★★★ The Scotsman
★★★★★ Broadway Baby
★★★★★ British Theatre Guide
TOUR DATES
No tour dates at the moment. Sign up to our mailing list for updates.
Director: Rich Rusk
Movement Director: Chris Evans
Producer: Rosalind Wynn
With performers from Shanghai Dramatic Arts Centre:
Liu Peng, Lan Haimeng/Zhu Ye/Zhao Yunlong, Yang Zi Yi, Wu Jing Wei, Zhou Zi Dan, Wang Wei Shuai, Yang Jing Ran, Li Chen Shan
Musician: Ni Peiwen
Design: Rhys Jarman
Lighting Design: Chris Swain
Sound Design: Dave Price and Chris Evans
Original Music: Dave Price
Technical Manager: Andres Velasquez/Mishi Bekesi
Assistant Director: Fang Ge
For Shanghai Dramatic Arts Centre:
Executive Producer: Shaolin Yang
Artistic Director: Lv Liang
Producer: Wu Jia
Associate Producer: Shi Tang
Supervisor: Tian Shui
Translator: Lin Qian
Dramaturg: Yu Rongjun
Stage Designer: Sang Qi
Lighting Operator: Wang Beijun
Sound Operator: Wang Yixuan
Stage Manager: Luo Jixin
Costume & Make Up Designer: Leng Jia
Setting Designer: Cui Haigang
Prop Designer: Liu Yiping
Logistician: Chen Longqing
Publicity Manager: Zhao Yangxiang
Casting Director: Lu Renjie
Assistant Stage Manager: Sheng Ruoyu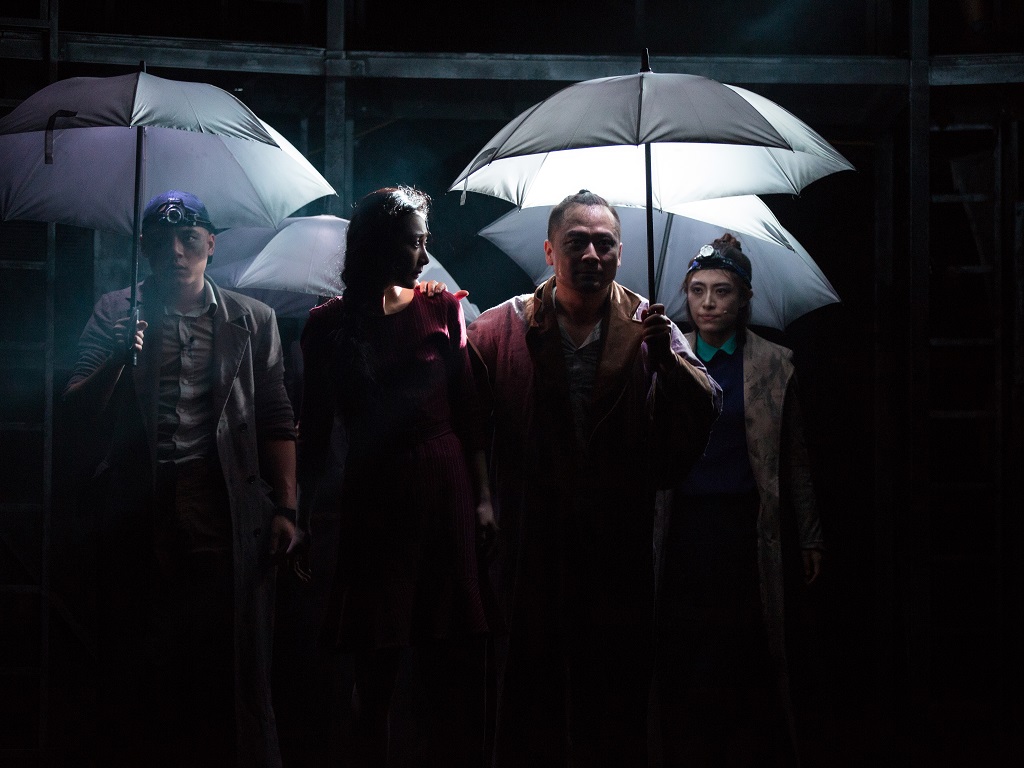 Reviews
"One of the most special nights of the Auckland Arts Festival. A unique physical story-telling style and jewel-like vignettes in staging will take your breath away. Bring your openness and a sense of wonder and you will not be disappointed." Radio13
"A 65 minute confetti-stuffed glitter-bomb of movement, melodrama, comedy and live music… a full on five-course meal of a theatre experience." The Spinoff
"A blur of motion, a series of arresting images mixed with comedic scenes and moments of mystery, longing and romance." New Zealand Herald
"Vivid, enthralling…Yang Ziyi is a wonderful Helena, sweetly sad and anxious but with a gradually thriving inner spirit" ★★★★ The Times
"The physical storytelling is so alive." ★★★★ The List
"Visually stunning…a feast for the eyes." ★★★★ The Scotsman
"Visually stunning, audibly mesmerising and heart stoppingly thrilling." ★★★★★ Broadway Baby
"A stunning production…this is one show that should be on the top of your list to see this year." ★★★★★ British Theatre Guide
2019
Chonqing Gutoi Arts Centre, China
Foshan Grand Theatre, China
Shanghai International Dance Centre, China
Auckland Arts Festival, New Zealand
Qiaobei Culture & Arts Centre, Nanjing, China
2017
The Grand, Pleasance Theatre, Edinburgh, UK
2016
Shanghai Dramatic Arts Centre, China